Why Join AAA?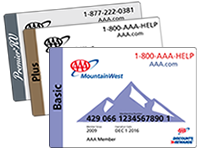 AAA coverage protects the stranded member — it's not tied to a vehicle.  So as a AAA member you're covered as a passenger or as a driver.
AAA membership means we'll change your flat tire, provide a jump start, dispatch a locksmith if you are locked out of your vehicle, and, should you run out of gas on the road, we'll deliver enough to get you to the nearest gas station (where service is available).  Choose from 3 membership plans that meet the demands of our unique territory.
Top reasons to become a AAA member today

Peace of Mind
When you need us most - reliable roadside assistance service 24/7. Covers YOU as a passenger or as a driver anywhere is the U.S. and Canada. Jump-start a dead battery, fuel delivery, tire service, towing,  unlocking your vehicle  and more.
We're a  Member Organization, Not Just an Insurance Company 
AAA offers its members an array of insurance products. to protect you and your family. Save 30% when you combine your home and auto. We're more than an insurance agency, we're a membership organization providing you the best product, price and coverage to fit your individual needs.
Carry the Card, Pocket the Savings
Your AAA  membership card is more valuable than you think. AAA Members save an average of $101 a year! Use your AAA discount on clothing, eyeglasses, auto parts, dining, entertainment, hotel stays and so much more!
Lowest Hotel Rates & Best Availability
Search from over 58,000 hotels worldwide and take advantage of exclusive AAA member rates like Best Western - members save 20%. Our hotels (and restaurants) are backed by AAA's trademark Diamond ratings.
Expert Travel Assistance
When it comes to travel, nobody does it better than AAA. We work with top-notch preferred providers to bring AAA members excellent service, great deals and exclusive member benefits.
Trustworthy Automotive Repairs, Backed by AAA
Put your car in the hands of a AAA Approved Auto Repair facility that guarantees their work so you can get back on the road. Includes member-only discounts on parts and labor at participating shops.
The Best Maps, Guides and Routing...Period!
Before you hit the road, put your membership to good use with our extensive travel planning tools. TourBook Travel Guides, TripTik Travel Planner and  road maps are all free for members. 
Get More Out of AAA Membership with Fun Extras
Includes member-only sweepstakes, special member discounts & offers, travel events and informative eNewsletters. We let you in on the latest tips on car maintenance, driving tips, travel & destination info, travel GEMS and so much more!  Interact with us on Facebook and Twitter. Stay connected with AAA and your member benefits no matter where you roam.  Download the AAA Apps free of charge.
One Card Convenience
We know you have options when it comes to road service, travel agencies and even insurance and financial products & services. Whatever your reason for joining, we've got you covered. Join the most trusted auto club in America.  
Your Membership starts here.
 Proudly serving residents of Alaska, Montana and Wyoming.